Article from the Irish Examiner: 01/04/2021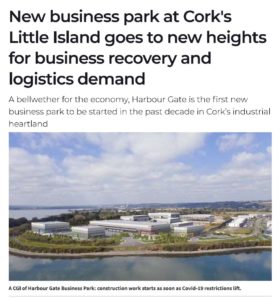 A bellwether for the economy, Harbour Gate is the first new business park to be started in the past decade in Cork's industrial heartland
TAKE-up of a brand new €28m business park in Cork's Little Island will be a bellwether both of recovering economic confidence and a shift in Ireland's business bedrock, the industrial and logistics sector.
Launching this month is the first new business park to be started in the past decade in Cork's industrial heartland, Little Island, to be called Harbour Gate. Construction will start as soon as current lockdown restriction move on from the lift in residential building to the wider construction sector.
Blocks on the seven-acre Harbour Gate site by the water's edge have been designed to NZEB standard by Edge Architecture and are available in sizes from 17,222 sq ft, through 63,000 sq ft units on to 126,370 sq ft, with 15m eaves, mezzanine scope, glazed section for office/service block, and served with dock- and grade-level loading doors.