The article was published in the Irish Examiner: 20/08/2020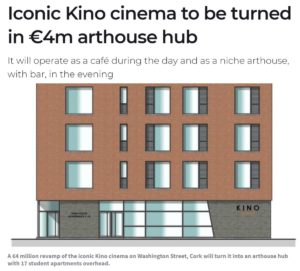 It will operate as a café during the day and as a niche arthouse, with bar, in the evening
THE developer behind a proposal to revamp the iconic Kino cinema on Cork city's Washington St plans to spend up to €4m redeveloping the site into what he hopes will become an arthouse hub.
Kerry-based Philip O'Connor told the Irish Examiner that his proposal will dovetail well with plans by IRE Real Estate Investment Partners Fund 11 to redevelop the nearby former Square Deal site to accommodate circa 280 student beds.
Edge Architecture Ltd, who lodged the planning application on Mr O'Connor's behalf, said it is believed the original building on the site was lost during the 1920 Burning of Cork.