Published in the Irish Examiner: 20/11/2018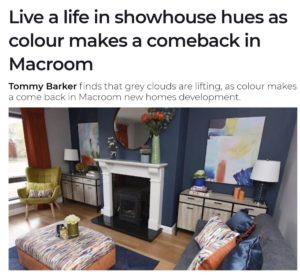 Tommy Barker finds that grey clouds are lifting, as colour makes a come back in Macroom new homes development.
Are the grey days of the recession and construction downturn behind us, that long, monochrome period where up to 50 shades of grey, or 'greige' was the colour palette favoured by architects, interior designers and their followers?
Well, whether or which, or whether fresh grey clouds will gather in this Brexit and Trumpet era, they're scarce at Meadowlands, Macroom, where a stalled Tiger-era development has found new developers, a new energy, a fresh house design, and a show-off showhouse, zinging with colour, bold punches of blues – and it's open and on show over this weekend, 2.30-3.30pm Sat and Sun.
On board for the current and next phases were Edge Architects, based in Clonakilty and a possibly coincidental West Cork link, as builders Hurley and White are Dunmanway-based also.